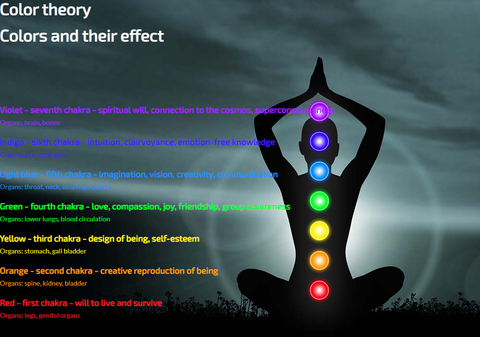 Light affects our mood and well-being. With each color's own wavelength and the energetic vibrations, well-being can be increased enormously. Negative sensations can be positively influenced by color.
The colors red and yellow have a stimulating effect, the colors blue and purple have a dampening effect. The green color takes a neutral position in the spectrum and has a harmonizing effect on the psyche.
White:
It is advisable to start a session with the sum of all spectral colors. White stabilizes the energy balance.
Red:
Increases wellbeing, activates, vitalises and contributes to a stronger blood circulation.
Green:
Green also has a very positive effect on nerves and breathing.
Blue:
Against nervous inflammation, insomnia and anxiety. Blue has a calming effect and brings relaxation.
Yellow:
The balancing effect of yellow helps with digestive and stomach problems. Yellow increases well-being, cheers up, drives away melancholy and is good for the nerves.
Purple:
Very good for strengthening the immune system. Purple can also help with headaches.
Light blue:
Can bring relief from respiratory diseases and infections.